COXREELS HAND CRANK REELS
COXREELS®Hand Crank Reels feature either a direct hand crank or bevel gear system to manually rewind your hose, cord, or cable. These reels feature a smooth, trouble-free retraction with maximum operator comfort, thanks in part to the smooth & round handles.
Coxreels Hand Crank Hose Reels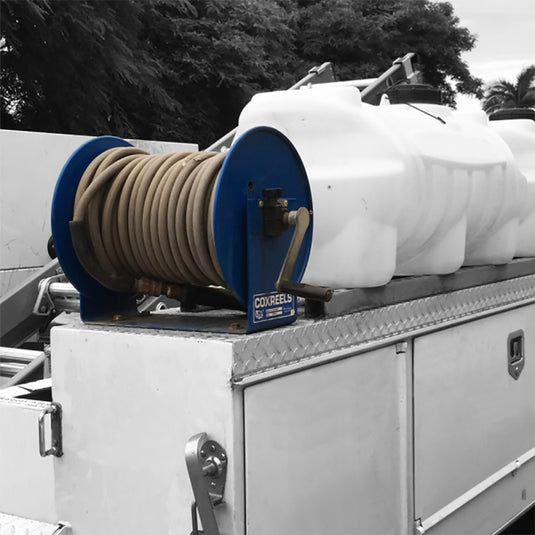 Coxreels 100 Series Hand Crank Hose Reels
Coxreels®100 Series hand crank hose reels are lightweight, compact, versatile reels that perform at working pressures up to 4,000 PSI. Save time and effort while increasing the safety of your work environment. The sturdy "U" shaped frame and all steel construction this one tough little reel.
Warranty Information
Products manufactured by Coxreels are warranted for a period of two years from the date of sale to original purchaser. If within such warranty period any such equipment is proved, to Coxreels' satisfaction, to be defective, Coxreels shall be liable for the repair or, at Coxreels' option, replacement when the product is returned, freight prepaid, to Coxreels' plant or a Coxreels' service dealer. Coxreels' obligation here under shall be confined to such repair or replacement and shall be further conditioned upon Coxreels receiving written notice of any alleged defect within ten days after its discovery. Coxreels assumes no responsibility for improper choice of models or where products are used in excess of rated capacities and design functions, or under abnormal conditions. We make available a free engineering service to help with any product selection, application or problem. 
Warranty is void if product or any part thereof has been tampered with, altered, or repaired by other than authorized service personnel. Coxreels' responsibility ceases upon delivery to any common carrier, and we do not, unless previously instructed, insure shipments beyond point of delivery to such carrier. Any products, components or accessories that are not manufactured by Coxreels and are supplied by other manufacturers are subject to their respective guarantees or warranties. Certain products will carry their own warranties. Equipment specially built to customers' specifications and requirements is not subject to cancellation nor returnable for credit under any condition. We reserve the right to modify or alter materials, dimensions, design and construction, when necessary, to improve performance.