Outstanding Quality and Technical Perfection
The Kränzle brand is synonymous with professional high-pressure cleaners that offer superior cleaning power and exceptional durability. Each high-pressure cleaner is meticulously checked by hand at our production site in Illertissen, Germany, to ensure the highest level of quality control. With a Kränzle high-pressure cleaner, you can be confident that you're getting a professional-grade machine that will provide long-lasting performance. Choose the Kränzle brand for the best in high-pressure cleaning technology.
You Can Rely On Kranzle Quality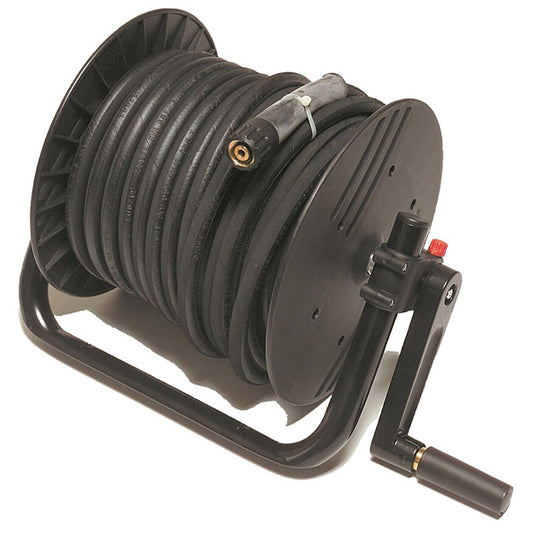 Hose Reel | Twist-Stop Screw Connection
Models with hose reel allow for neat storage of the high-pressure hose. The twist-stop screw connection also prevents the hose from twisting during work and guarantees an undisturbed cleaning process.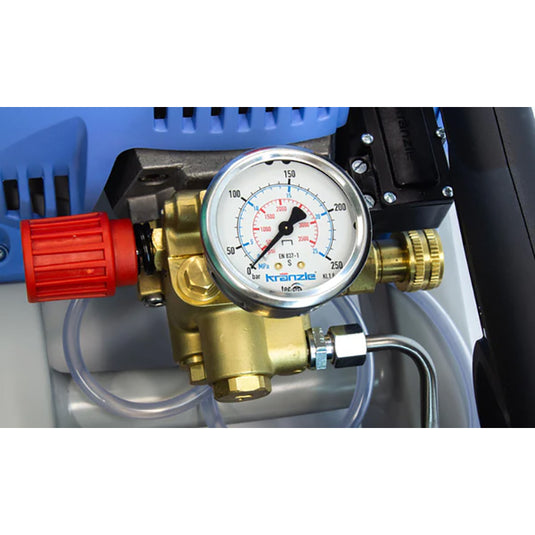 TotalStop System | Safety Shutdown
Energy consumption is reduced, service life up: when closing off the high pressure gun, the motor switches off automatically, relieves the high-pressure pump and drive and reduces the noise level. If the high-pressure cleaner is accidentally not switched off, after 20 minutes it automatically goes into the safety shutdown by deactivating it.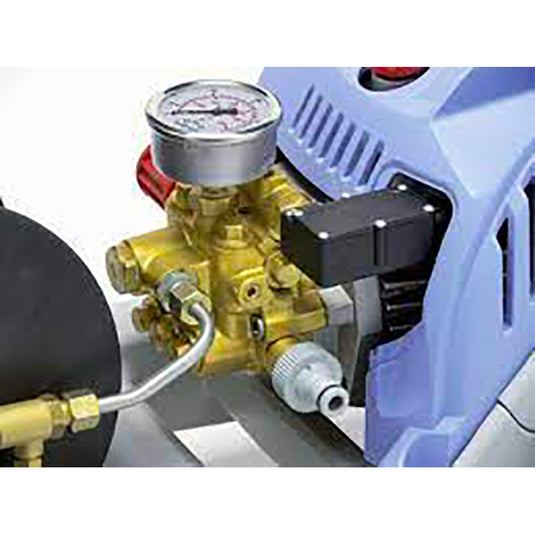 Slow Running Electric Motor
Economical, quiet and durable: The particularly powerful high-pressure cleaners for continuous operation are equipped with a 4-pole electric motor. Its low speed of 1400 rpm reduces the starting current, thus ensuring less wear and noise.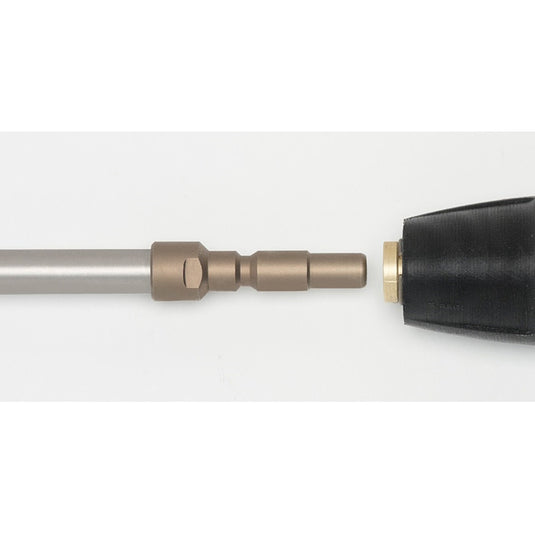 Quick Release Plug-In System
Sophisticated, fast and reliable: the quick release plug-in system with hardened stainless steel components ensures simple and always safe connection of the safety shut-off gun with the lance. Accesories that are equipped with an anti-twist protection can be locked in six various positions.
Direct Suction Water Inlet
No water connection - no problem: high-pressure cleaners with a motor output of 1400 rpm offer the possibility of sucking water from separate containers or ponds due to the suction power of the high-pressure pumps.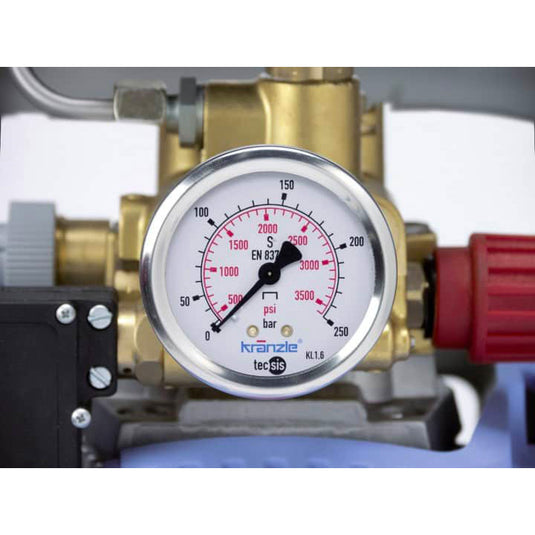 Pressure Regulation | Stainless Steel Pressure Gauge
With all high-pressure cleaners (except the K1050 series), the working pressure and water quantity can be individually adjusted to the respective application. The large stainless steel pressure gauge provides a clear reading of the set working pressure. It contains a glycerine liquid that dampens possible fluctuations of the pointer.
Kranzle Electric Pressure Washers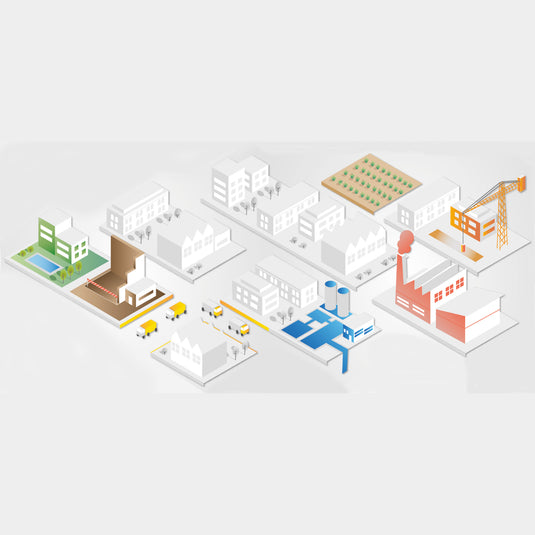 The Right Kranzle For Every Application
The requirements for high-pressure cleaners, industrial hoovers and manual sweepers vary greatly from one industry to another. This is why Kranzle has developed a product range which, due to its breadth and depth, meets all requirements with ease.
Quality "Made in Germany". This is the claim and commitment for each of our product lines - from portable high-pressure cleaners, mobile high-pressure cleaners, high pressure cleaners in cold and hot water versions and to stationary units.
A Kranzle For Every Industrial Application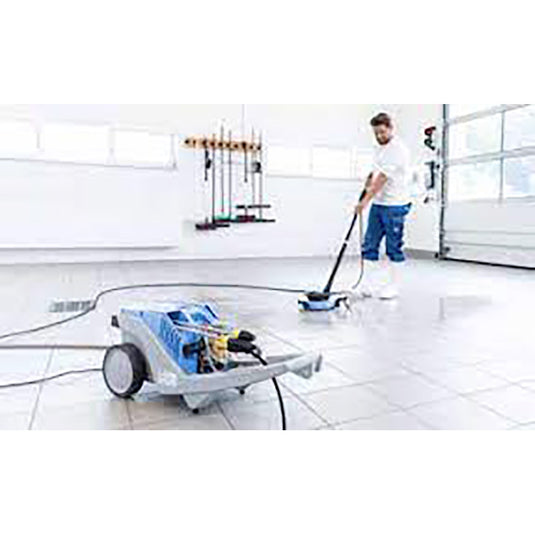 Building Cleaning | House and Garden
Kranzle bring cleaning equipment and their products to your home. Our sophisticated range of accessories makes everything shine again. Whether terraces, courtyard entrances, parking spaces, stairs, walls, fences or garden furniture - with Kranzle every surface becomes spotlessly clean.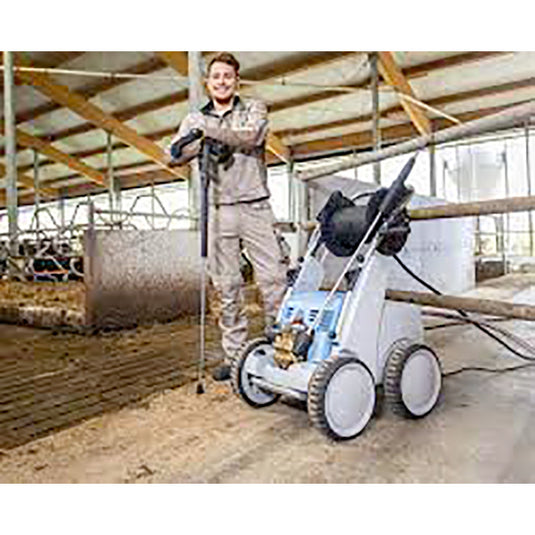 Agriculture | Livestock | Farming
Cleanliness in agriculture and animal husbandry is a elementary requirement for healty, hugience and good working conditions. Whether for the care of tractors and machines or for cleaning the stables and yards. A Kranzle high-pressure cleaner may be used.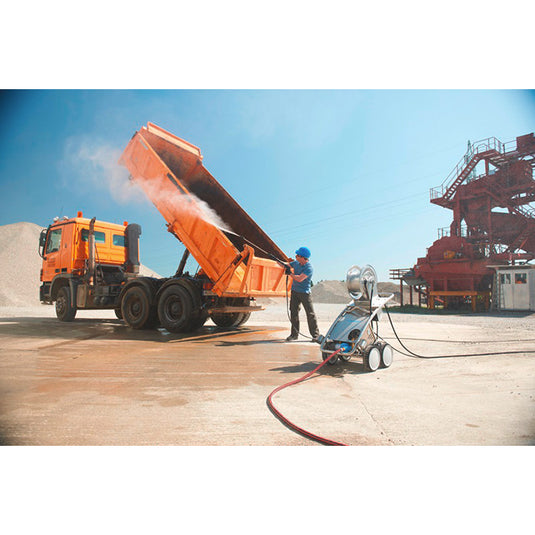 Public Service | Construction
The cleaning operations in the public service require professional non-compromising equipment. Kranzle high-pressure cleaners are the ideal companions for the cleaning of construction vehicles, vans, public spaces or the removal of graffiti on facades.
Automotive Industry | Haulage Firms
Car dealerships, garages and car valeting companies, haulage firms and couriers, as well as bus and taxi companies market their business through the cleanliness of their vehicles, workshops and premises. Making that first impression is important. Kranzle offers the perfect cleaning solution for all reqirements.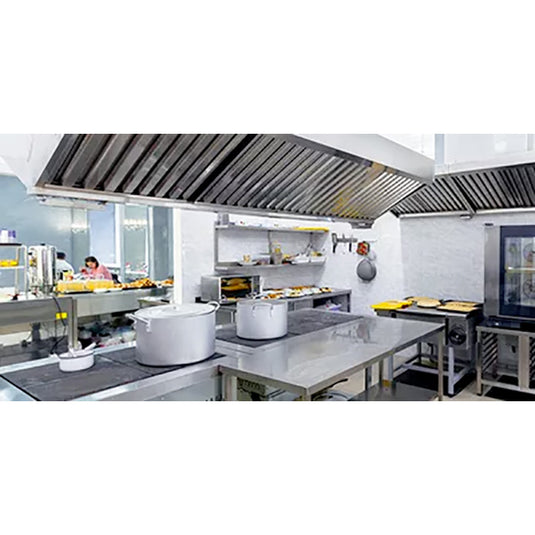 Sanitary Food
The Kranzle NoM versions (non-marking) are particularly suitable for use in hygiene and sanitary areas. White solid drubber tyres and grey high-pressure hoses leave no signs of abrasion, as required for these areas.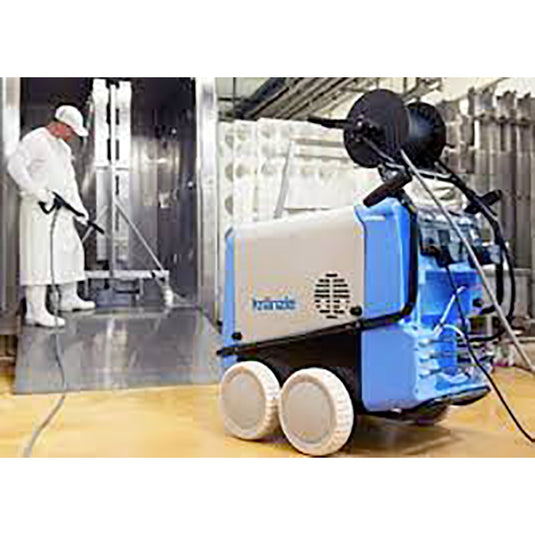 Industry
Premises and machines must be regularly inspected and dust, dirt and oil contamination removed. Kranzle offers high-quality cleaning machines with sophisticated accessories, which meet all the requirements of industrial companies.