CENTRAL VACUUM SYSTEMS TO HELP YOU CLEAN AND DISINFECT YOUR HOME OR BUSINESS
DrainVac offers a large selection of products for the residential, commercial and industrial sector. Our models can be compact or large-capacity, with a bag or bagless, conventional or designed for picking up liquids too. We also offer specialized units for residential use and different types of industries: car washes, hotels, restaurants, industrial environments, etc. ther is also a wide range of accessories in stock or upon request.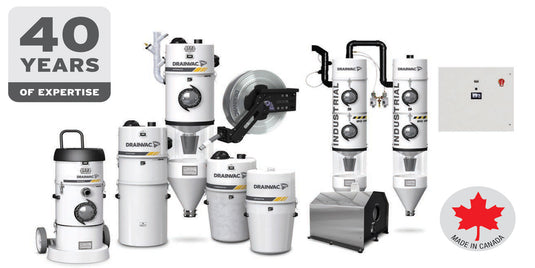 40 Years of Expertise
RELIABLE, POWERFUL, VERSATILE.
40 years ago, we started designing products to meet the stringent requirements of the commercial and industrial sectors. The application of our technologies for domestic use is your guarantee of satisfaction for years to come. The proven performance and reliability of our systems are recognized worldwide.
WE CLEAN UP GOOD!
Contact Us
Please fill out the form below and we'll get back to you within 24 hours.