A Powerful & Ingenious Central Vacuum
DRAINVAC designed and developed the first central vacuum with a patented automatic drain. Our units are so powerful that the DrainVac Automatik central vacuum system can empty a blocked sink in seconds!
DRAINVAC offers some of the largest canisters available for central vacuum systems. They are made from polypropylene and parts are made from galvanized or stainless steel: unbreakable materials that do not rust.
Installed away from living areas, noise from the DRAINVAC's central vacuum motor is greatly reduced or even nonexistent. Some of our models are soundproofed and emit only 58 decibels.
DrainVac Residential Central Vacuums
DrainVac Vacuum Bags, Filters and Accessories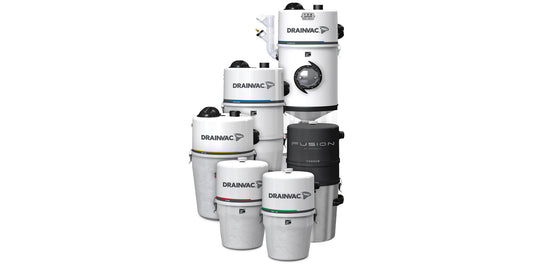 40 Years of Expertise
RELIABLE, POWERFUL, VERSATILE.
40 years ago, we started designing products to meet the stringent requirements of the commercial and industrial sectors. The application of our technologies for domestic use is your guarantee of satisfaction for years to come. The proven performance and reliability of our systems are recognized worldwide.
WE CLEAN UP GOOD!
Warranty For Residential Use
Motor(s): 10 Years
Circuits: 10 Years
Casing: Lifetime
Labour: 5 years (at an authorized DrainVac dealer or plant). The shipment of any items and the travel up to a retailer or to the maufacturer are at customer expense.
Accessories: 3 Years
Replacement Parts . 1 Year